Snyder Bailey has established a superior reputation as a market leader in historic, luxury and unique property sales in the Washington D.C. metro area. The firm delivers "large agency" results with an unrivaled client service and care that only a boutique agency can offer. With a focus on robust advertising and leading edge marketing, Snyder Bailey provides tailored and specific solutions for client properties. Known for taking on the most unique, spectacular and sometimes challenging property listings, the company has become the premier go-to agency for historic and luxury real estate in the Eastern Panhandle and surrounding area. Snyder Bailey is led by broker Carolyn Snyder who brings over 40 years of real estate sales experience and a passion for helping her clients.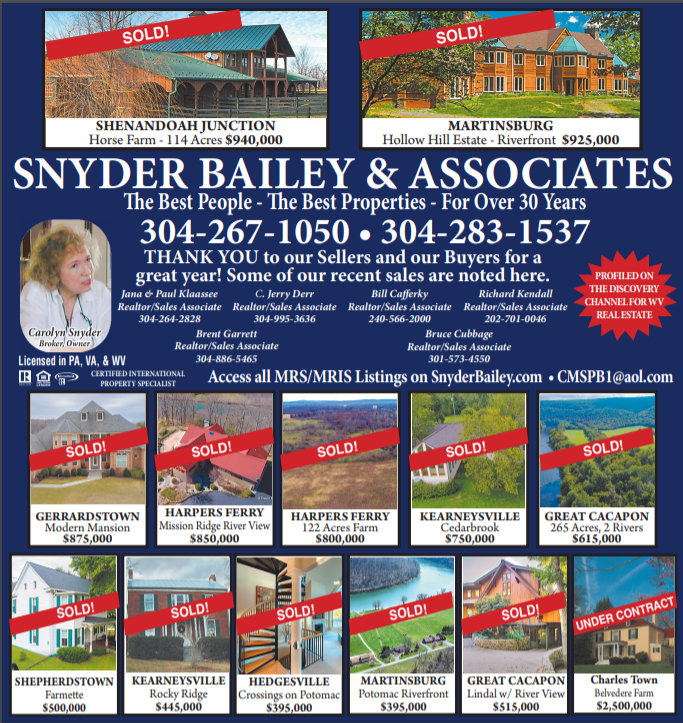 For Immediate Release- 3/25/18
Hollow Hill mansion sells for $925k
MARTINSBURG — In one of the largest Eastern Panhandle residential real estate sales in recent years, the riverfront mansion known as Hollow Hill has changed hands, according to a press release.
The property — consisting of a 7,500-square-foot, six bedroom cedar-sided home on 63 acres on a 100-foot bluff over the Potomac River — changed hands for $925,000, the release said. It is located near the intersection of Carlyle Road and Whitings Neck Road, about a mile from the Yankauer Nature Preserve.
The home was built in 1990 by Louis Cox, the former chief counsel for the U.S. Postal Service and F. Mckee Dunn Cox. Cox was also the brother of Archibald Cox, who was the Watergate scandal special prosecutor. Cox's wife was a notable breeder of Great Pyrenees dogs.
According to Carolyn Snyder the Snyder Bailey & Associates real estate broker, who represented the sellers in the transaction, the new owner, from Northern Virginia intends to remodel parts of the residence and use some of it for a yoga students' retreat center. Snyder said in the release that she thinks this is a "great idea" and that it will benefit the tourism economy of the Panhandle.
"The new owner specifically mentioned that having other tourist-attractive features in this area was important to him," Snyder said in the release.
Snyder said the pace of luxury home sales in the Panhandle has picked up recently.
"I sold $14 million in property last year, much of it in that category, and it looks like a good number of wealthy buyers are now selling some other assets and taking advantage of interest rates, which are still at historically low levels but are expected to rise. We do a lot of advertising to make DC metro buyers aware of the great properties, very low real estate taxes and overall very low cost of living in the state."
The Tax Foundation recently rated West Virginia as having the fifth lowest cost of living of any state. That is an important factor in many fixed-income retirees' decision on where to live, the release said.
Some other features of Hollow Hill include an in-ground swimming pool, about 800 feet of Potomac River frontage and a limestone cave entrance near the river used by local spelunkers.
________________________________________________________________________
For Immediate Release
One Small Agency Sells More Than Half of Top Properties.
Snyder Bailey and Associates of Martinsburg is pleased once again to announce that it has continued to sell the highest priced properties in the Eastern Panhandle over the past year.
Year in and year out this small, "boutique" INDEPENDENT agency sells over 1/2 of the region's best historic, luxury, and estate properties.


Carolyn Snyder, the agency's broker says she is gratified at the agency's continued success in attracting and meeting the needs of both the buyers and sellers of this market.


The agency specializes in what it calls H.E.W. properties, short for Historic, Estate and Waterfront. Snyder says most of the buyers of such property are from Washington DC and the "Federal" suburbs. "Many of them are looking for a high-end country retreat to which they may even retire in a few years", she says. "But we also are attracting quite a few foreign buyers as well. We have lots of history here, lots of riverfront on two rivers and some really great estates. We also attrbute the rising market to the region's relatively mild climate (less snow and fewer violent weather events than some more coastal regions), clean air, and gorgeous scenic homesites. Best of all I can safely promise that one living here will ever get stuck in a traffic jam on their way to the grocery store."


The properties sold by the agency included two of the top three residential properties in Berkeley County and the highest priced residential property in Jefferson County.